Q4 2021 Market Commentary Podcast
On this episode of A Wiser Retirement Podcast, Casey Smith, Matthews Barnett, CFP®, ChFC®, CLU® and Brad Lyons, CFP® talk about Q4 2021 and give an overview of stock market performance. They talk about bonds, treasury inflation-protected securities, and real estate. They also review their 2021 market picks, discussing the Invesco Global Return Clean Energy ETF and the S&P Kensho New Economies ETF.
Listen on Apple Podcasts or watch on YouTube:
SUMMARY:
Q4 2021 Market Commentary
Q4 2021 capped off a really great year. The S&P 500 had a 10% gain in Q4 alone. These type of years are great when they come along, but you can't count on them year after year. Throughout our financial planning process, we don't plan for 28% in returns, but rather plan for much less. When we have years like that, we can take those returns and let them accumulate in our clients portfolios for future use.
Should Bonds Still Be in Your Portfolio?
Bonds play an important role in portfolios. They give us a more certainty of return, given that they have a stated interest rate on them. They mature at face value, so you know that you have a stated ending value for the bond at term. They mitigate the risk of investing in equities in a portfolio. They also will provide some interest, or income to the portfolio over time.
Interest rates and bond prices tend to have an inverse relationship with each other. As interest rates rise, the face value of the bonds we are holding have a tendency to go down, depending on the economic conditions.
Treasury Inflation-Protected Securities (TIPS)
TIPS is a treasury inflation protected security with a short term duration to it. It is designed that if inflation goes higher, the value of the underlying position and the rate at which the investor is paid on the bond increases with inflation. It has an offset to inflationary aspect to it. This protects against any loss in value in the bond portfolio due to rising interest rates.
Real Estate
Ironically, real estate did quite well in 2021, especially in Q4 2021. One interesting trend in real estate is the move from the traditional office space to distribution centers, cell towers, and warehouses that house server farms. When you look at REITs, the top holdings are public warehouses. Real estate can often be thought of as a bond proxy, because it does pay that generated income stream from rental income.
Review of Our Team's 2021 Market Picks
A year ago we chose which funds, stock, or index would outperform for 2021. Matthews picked the Invesco Global Return Clean Energy ETF. Brad chose S&P Kensho New Economies ETF. Casey chose the total market as his pick. Matthews pick, the Invesco Global Return Clean Energy ETF was down 22% in 2021. Brad's pick, the S&P Kensho New Economies ETF was up 3.69%. Casey's pick, the total stock market was up 25.67%.
Our Team's 2022 Market Picks
Matthews chooses the SPDR S&P 500 ETF. Casey chooses Vanguard Information Technology Index Fund (VGT). Brad chooses iShares Global REIT ETF.
Download our white paper on "3 Ways to Grow and Protect Your Portfolio"
TIMESTAMPS:
0:00 Intro
1:20 Q4 2021
2:55 Should Bonds Still Be in Your Portfolio?
5:15 TIPS
10:10 Real Estate
16:15 Review of Our Team's 2021 Market Picks
21:20 Our Team's 2022 Market Picks
LINKS:
Learn more about Casey Smith and connect with him on Twitter.
Learn more about Brad Lyons.
Learn more about Matthews Barnett.
CONNECT:
Twitter, Instagram, Facebook, LinkedIn, and YouTube.
Learn more about the Wiser Wealth Management Roundtable podcast and access previous episodes.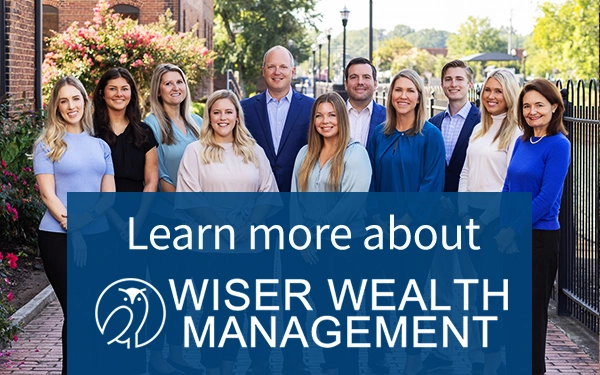 Share This Story, Choose Your Platform!
Wiser Wealth Management, Inc ("Wiser Wealth") is a registered investment advisor with the U.S. Securities and Exchange Commission (SEC). As a registered investment advisor, Wiser Wealth and its employees are subject to various rules, filings, and requirements. You can visit the SEC's website here to obtain further information on our firm or investment advisor's registration.
Wiser Wealth's website provides general information regarding our business along with access to additional investment related information, various financial calculators, and external / third party links. Material presented on this website is believed to be from reliable sources and is meant for informational purposes only. Wiser Wealth does not endorse or accept responsibility for the content of any third-party website and is not affiliated with any third-party website or social media page. Wiser Wealth does not expressly or implicitly adopt or endorse any of the expressions, opinions or content posted by third party websites or on social media pages. While Wiser Wealth uses reasonable efforts to obtain information from sources it believes to be reliable, we make no representation that the information or opinions contained in our publications are accurate, reliable, or complete.
To the extent that you utilize any financial calculators or links in our website, you acknowledge and understand that the information provided to you should not be construed as personal investment advice from Wiser Wealth or any of its investment professionals. Advice provided by Wiser Wealth is given only within the context of our contractual agreement with the client. Wiser Wealth does not offer legal, accounting or tax advice. Consult your own attorney, accountant, and other professionals for these services.
Sign up for our newsletter!
Our latest blogs, podcasts, and educational videos delivered to your inbox weekly.