If you watched the Super Bowl commercials this year, you saw a lot of buzz about Bitcoin and Cryptocurrency. If you tune into the financial media even occasionally, you've still likely seen these terms come up again and again. Despite the frequent coverage, you might be wondering just what exactly is cryptocurrency and should I be investing in it?
A cryptocurrency is a digital currency or asset that is secured by cryptography. This is what makes it unique. Many cryptocurrencies are decentralized networks based on blockchain which is where most of its capabilities are seen both today and in the future. The most popular crypto is still Bitcoin that maintains about 40% of the market share. It was created around 2008 by an anonymous person calling themselves "Satoshi Nakamoto." As of November 2021, there were over 18 million bitcoins in circulation with a total market cap of around $1.2 trillion. It has been stated that only about 21 million bitcoins total will be in circulation which is why we have seen "altcoins," like Solana, Litecoin, Ethereum, and Cardono, expand in popularity over the last few years.
What is important to keep in mind is how volatile these "coins" can be. Different coins can have daily and weekly moves that are not seen except in bear markets for the stock market. For example, the price of Bitcoin hit $3,136 in December 2018. It subsequently climbed significantly and hit a high of $64,870 in April 2021 before falling back to $28,824 in June 2021. Currently, it is around $41,000 as of 2/28/22. The basic rule of thumb has been that these coins should hold the same kind of position in a portfolio as commodities. In other words, cryptos should make up no more than 1-2% of an investment portfolio.
Experts say that blockchain technology can serve multiple industries. They claim that the technology can improve supply chain issues, smooth out processes, and increase storage. However, while they are more widely accepted by some banks and countries than ever before, they are still unregulated assets.
Although cryptocurrencies are well circulated as individual purchases, the SEC has yet to approve a cryptocurrency ETF because they are not considered a security and still unregulated. However, they can be bought on many platforms like Robinhood and Coinbase. Advisors also now have the ability to manage bitcoin and crypto portfolios for clients through software like OnRamp. Essentially, the verdict is still out as to whether or not cryptocurrencies should be considered an asset class or commodities and if they are actually a good hedge against inflation or not. Also, this could still be just a fad, speculation, or a "get rich quick" scheme that will fade away in a few years. While we are not against crypto investing entirely, it is important to still focus on the basics. Focusing on well-constructed portfolios diversified across various asset classes is still the best way to achieve your financial goals. We prefer ETFs but this could be done through mutual funds or individual securities and diversification. While crypto could be the way of the future and a place to make some money if you are willing to take a risk, we think that investors should still focus on solid financial plans that feature the basics first and foremost.
Have more questions? Contact Us
Matthews Barnett, CFP®, ChFC®, CLU®
Financial Advisor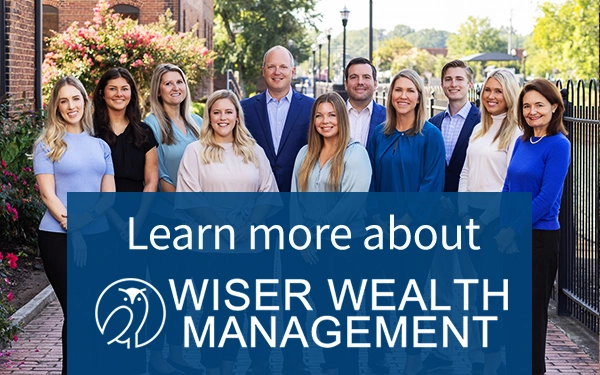 Share This Story, Choose Your Platform!
Wiser Wealth Management, Inc ("Wiser Wealth") is a registered investment advisor with the U.S. Securities and Exchange Commission (SEC). As a registered investment advisor, Wiser Wealth and its employees are subject to various rules, filings, and requirements. You can visit the SEC's website here to obtain further information on our firm or investment advisor's registration.
Wiser Wealth's website provides general information regarding our business along with access to additional investment related information, various financial calculators, and external / third party links. Material presented on this website is believed to be from reliable sources and is meant for informational purposes only. Wiser Wealth does not endorse or accept responsibility for the content of any third-party website and is not affiliated with any third-party website or social media page. Wiser Wealth does not expressly or implicitly adopt or endorse any of the expressions, opinions or content posted by third party websites or on social media pages. While Wiser Wealth uses reasonable efforts to obtain information from sources it believes to be reliable, we make no representation that the information or opinions contained in our publications are accurate, reliable, or complete.
To the extent that you utilize any financial calculators or links in our website, you acknowledge and understand that the information provided to you should not be construed as personal investment advice from Wiser Wealth or any of its investment professionals. Advice provided by Wiser Wealth is given only within the context of our contractual agreement with the client. Wiser Wealth does not offer legal, accounting or tax advice. Consult your own attorney, accountant, and other professionals for these services.
Sign up for our newsletter!
Our latest blogs, podcasts, and educational videos delivered to your inbox weekly.