Financial Planning in Your 20s
In this episode of A Wiser Retirement Podcast, Casey Smith, Brad Lyons, CFP®, and Michaela Dowdy discuss financial planning in your 20s and 20-something's biggest issues with money.
SUMMARY:
Financial Planning in Your 20s
Something to keep in mind in your 20s is that your 20s is about getting your life started. Most people will tell you they wish they would have done something different in their 20s, whether that be saving more – or going out less. This is the time to start healthy financial habits. Even if your just saving a little, it's better than nothing!
Your 20s is the time to create a base and know that saving is relative. If you save 10% of your income, it is relative to your salary and no matter what way you look at it, it's 10% of your salary! If it's not your ideal amount its ok- you have to start somewhere. The best advise for 20-somethings would be to just start saving as much as you can now.
Don't Think of Saving as a Restriction
20 year olds coming out of college right now are entering an expensive world. Groceries are expensive, rent is expensive – almost anything you look at is expensive! This is why saving is so crucial during this time of your life. For many people their 20s, it is the first time they are having to manage money on their own, which can be stressful.
The solution to saving money while also having fun is building a budget. Look at how much you make, your expenses, and what you like to do. Save based off that. You don't need to be saving all your money, just some so that you can start a base for your future. Don't think of saving as a restriction, but rather a peace of mind. Know that you've already saved so that you don't have to worry about it when you're out having fun. It can be more freeing than restricting.
Don't Fall for Credit Card Illusion
A lot of people weren't taught very healthy money management skills, which can lead to problems down the road. Leaving college and having to deal with money management for the first time can be stressful and can lead to the downhill spiral of credit card debt.
There are a lot of benefits to credit cards, but there is also the downside that credit card debt can happen very quickly. Credit cards can be convenient to pay for things, because of the points and rewards tied to them. However, if you weren't taught healthy money management skills, credit cards can become a crutch for when we don't have the funds to pay for something right away. They can be seen as a second source of income, which they are not.
You shouldn't get a credit card if you don't have self control. Credit card companies advertise all the benefits of credit cards, but don't tell you how easy it is to fall into debt. When planning for your 20s, don't fall for the illusion of credit cards. Only get one if it makes sense financially for you.
Keep in mind that most people in their 20s are coming out of college with student loans. If you already have debt, work on paying that off – not on getting into more debt.
Don't Spend Carelessly
This is the time in your life to focus on your career and really generate extra money. Stick to the basics of investing and don't try to do too much. Your 20s is one of the best times to invest in long-term markets because you have time. Time is the key and the more time you have, the better.
At the end of the day, it all falls back on having a plan. Create goals for yourself and stick to them. Always make sure you're working towards something, even if it's simple.
Download our white paper on "Your Path to a Lifetime of Financial Success"
TIMESTAMPS:
0:00 Intro
0:58 Financial Planning in Your 20s
10:03 Don't Think of Saving as a Restriction
14:04 Don't Fall for Credit Card Illusion
26:08 Don't Spend Carelessly
LINKS:
Learn more about Casey Smith and Brad Lyons, CFP.
CONNECT:
Twitter, Instagram, Facebook, LinkedIn, and YouTube.
Learn more about A Wiser Retirement podcast and access previous episodes.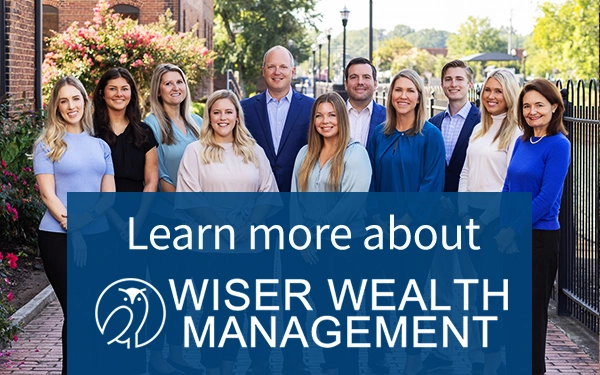 Share This Story, Choose Your Platform!
Wiser Wealth Management, Inc ("Wiser Wealth") is a registered investment advisor with the U.S. Securities and Exchange Commission (SEC). As a registered investment advisor, Wiser Wealth and its employees are subject to various rules, filings, and requirements. You can visit the SEC's website here to obtain further information on our firm or investment advisor's registration.
Wiser Wealth's website provides general information regarding our business along with access to additional investment related information, various financial calculators, and external / third party links. Material presented on this website is believed to be from reliable sources and is meant for informational purposes only. Wiser Wealth does not endorse or accept responsibility for the content of any third-party website and is not affiliated with any third-party website or social media page. Wiser Wealth does not expressly or implicitly adopt or endorse any of the expressions, opinions or content posted by third party websites or on social media pages. While Wiser Wealth uses reasonable efforts to obtain information from sources it believes to be reliable, we make no representation that the information or opinions contained in our publications are accurate, reliable, or complete.
To the extent that you utilize any financial calculators or links in our website, you acknowledge and understand that the information provided to you should not be construed as personal investment advice from Wiser Wealth or any of its investment professionals. Advice provided by Wiser Wealth is given only within the context of our contractual agreement with the client. Wiser Wealth does not offer legal, accounting or tax advice. Consult your own attorney, accountant, and other professionals for these services.
Sign up for our newsletter!
Our latest blogs, podcasts, and educational videos delivered to your inbox weekly.