Investing Through Times of Fear
On this episode of A Wiser Retirement™ Podcast, Casey Smith, and Brad Lyons, CFP®, talk about investing through times of fear. They also discuss 37 different reasons people often fear investing in the stock market, but shouldn't.
Listen on Apple Podcasts or watch on YouTube:
It is no news that 2022 was one of the worst years in a while for investors. Contrary to last year, 2023 has started out green across the board. However, some people still feel uneasy regarding the stock market. While there are plenty of reasons out there to fear, it's important to understand that while some of them are valid, most actually aren't. People's thoughts are often influenced by the media which is filled with doomsday content causing unnecessary doubt and fear.  
The Biggest Reasons to Fear the Market According to the Media
The news headlines that are driving the most fear among the population currently are political polarization, recession, and inflation. Although political polarization has caused a lot of problems in our country, it is not something that actually affects the stock market. Whichever party the president of the United States belongs to doesn't affect the stock market, especially since we don't believe in becoming rich overnight. If you look at investing as a long-term thing, one mandate doesn't actually impact your portfolio. In addition, a possible recession also seems to be a cause of great fear among the population. It is understandable that no one likes a recession, but there is a big reward at the end of the tunnel if you continue invested through it. The talk about inflation and Fed updates has some people nervous, but we cannot forget that inflation had always existed, and it is a monetary phenomenon. Luckily for some investors, stocks keep up with inflation much better than bonds.
37 Reasons People are Fearful of the Stock Market and Investing
We talked about some of the biggest drivers of fear currently, but you can also find so many more if you fall into that rabbit hole. We found 37 reasons why the media thinks you should liquidate your stocks and shares:
A possible recession.

Inflation and rising prices.

An inverted yield curve.

Interest rates and mortgage rates continue to rise.

Cryptocurrencies vs the U.S. dollar.

Russia's invasion of Ukraine.

China's possible invasion of Taiwan.

National debt ceiling/debt default.

Rising energy prices.

COVID restrictions.

Supply Chain Issues.

Crime.

Social Unrest.

Woke.

Political polarization.

Homeless issues.

School boards/parental control over classes taught.

CRT.

Bear markets in stocks around the world.

Bear markets in bonds around the world.

Home prices on the decline.

Home prices at an all-time high.

Home affordability is low.

Lack of workers while having a record number of job openings.

Income inequality.

Skyrocketing rents.

Generational shifts.

Technology.

Gun Violence.

Price gouging by corporations.

Distrust in American institutions and ideals; Government, businesses, and schools.

Distrust in one another

Student debt.

Taxes and the IRS.

Green energy costs.

Energy independence.

Geopolitical concerns; Russia, China, Middle East.
Fear Should Never Dictate Your Investment Strategies
While it is pretty clear we live in times of turmoil, there will always be reasons to have hope and a positive outlook in the future. Even though, a lot of what's going on in the world can have an impact on the economy, investing the right way can help you avoid big losses on your portfolio. Investing through times of fear takes a lot of discipline, patience, and self-control. Fear should never dictate your investment strategies. Warren Buffet once said; "Be greedy when others are fearful." It is not always easy, but being prepared can help ease some of the feeling of fear that comes when the market is not performing as you'd like. This is why we encourage people to have a safety net (emergency fund), invest for the long-term, and stay invested through the hard times.
TIMESTAMPS:
0:00 Intro
3:30 The Biggest Reasons to Fear the Market According to the Media
7:35 37 Reasons People are Fearful
43:56 Fear Should Never Dictate Your Investment Strategies
LINKS:
Learn more about Casey Smith and Brad Lyons, CFP®
CONNECT:
Twitter, Instagram, Facebook, LinkedIn, and YouTube.
Learn more about A Wiser Retirement™ podcast and access previous episodes.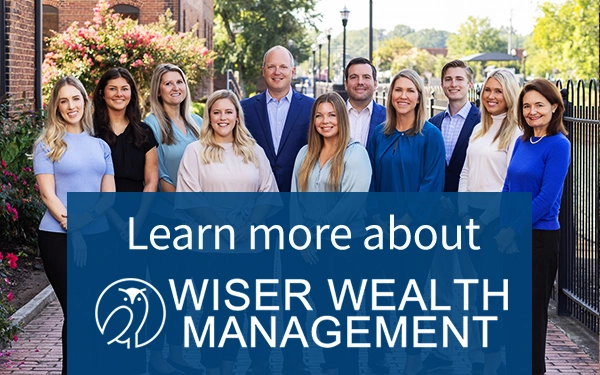 Is a high yield savings account right for you?
Casey Smith
Delta Pilots Guaranteed Variable Universal Life (GVUL) – What Action You Need to Take
Casey Smith
Share This Story, Choose Your Platform!
Wiser Wealth Management, Inc ("Wiser Wealth") is a registered investment advisor with the U.S. Securities and Exchange Commission (SEC). As a registered investment advisor, Wiser Wealth and its employees are subject to various rules, filings, and requirements. You can visit the SEC's website here to obtain further information on our firm or investment advisor's registration.
Wiser Wealth's website provides general information regarding our business along with access to additional investment related information, various financial calculators, and external / third party links. Material presented on this website is believed to be from reliable sources and is meant for informational purposes only. Wiser Wealth does not endorse or accept responsibility for the content of any third-party website and is not affiliated with any third-party website or social media page. Wiser Wealth does not expressly or implicitly adopt or endorse any of the expressions, opinions or content posted by third party websites or on social media pages. While Wiser Wealth uses reasonable efforts to obtain information from sources it believes to be reliable, we make no representation that the information or opinions contained in our publications are accurate, reliable, or complete.
To the extent that you utilize any financial calculators or links in our website, you acknowledge and understand that the information provided to you should not be construed as personal investment advice from Wiser Wealth or any of its investment professionals. Advice provided by Wiser Wealth is given only within the context of our contractual agreement with the client. Wiser Wealth does not offer legal, accounting or tax advice. Consult your own attorney, accountant, and other professionals for these services.
Sign up for our newsletter!
Our latest blogs, podcasts, and educational videos delivered to your inbox weekly.