Key Things to Know About Medicare Enrollment
On this episode of A Wiser Retirement™ Podcast, Casey Smith, and guest Logan Steele, discuss preparation for Medicare enrollment, and the different options for Medicare coverage.
Listen on Apple Podcasts or watch on YouTube:
Choosing which Medicare plan is right for you can be challenging and confusing. Although there is heavy restrictions on medicare marketing, companies still find loopholes to advertise different plans which end up confusing the elderly. 
Medicare Plans Are Always Changing
Because medicare plans are constantly changing, it's important to stay on top of it. It is definitely not one of the things you can "set and forget", it's important to revisit your plan choices frequently. Additionally, the plan that's good for one person is not necessarily the right one for another. This aspect of medicare could be compared to financial planning, in a sense that there is always the rule of thumb, but ultimately as every person is different, every plan is also different.
When Should You Start Looking for Medicare for Yourself and Your Spouse?
Generally, you should start studying your options 6-12 months before going on medicare. 12 months may seem like a long period of time to make a decision, but you need to look at the transition and analyze that timeline. However, for a lot of people, 6 months is enough time. Another point to take into consideration is that people are working longer now, past the age 65, and that changes things too. Therefore, 6 months is adequate for most people to begin planning medicare coverage. 
Are You Automatically Enrolled in Medicare at Age 65?
Generally, it depends. If somebody is already receiving social security (they retired early) then they're automatically enrolled. Although they would have the option to opt out of medicare is desired.
What is the Difference Between Part A and Part B?
In summary, Part A is for Hospital coverage and part B is for doctor's visits. Part A is free for most American citizens and people that have been living and working in America for years. You can enroll in Medicare (part A or B) online, or go to a local Social Security office. Regardless of using medicare or not it is advised to enroll for medication discounts (such as GoodRX).
Is There One Plan That is Considered the Best?
There are a lot of factors that categorize the different plans, so it really depends. If trying to understand whether it makes sense for someone to go with a supplement plan or an advantage plan, it's important to know that the with the supplement plan, you pay a higher premium, usually, but it picks up all or most of what medicare doesn't cover. There's also no cap on it. And this is a big reason why many choose to go with supplement plan. Either way, both plans offer a high coverage, which is a great advantage from various private insurance health plans.
One nice plus about the medicare supplement plan, is that there's no network. So, there's more flexibility when choosing doctors or trying to stick with your already known and trusted doctors. 
Additionally, it's very important to also set a prescription plan, since medication expenses are a heavy component of elderly's health expenses. Don't trust 100% the medication discounts offered by your insurance, going back to GoodRX, it's always good to check elsewhere for additional discounts.
Is the United States Moving Toward Universal Health Care?
There are a lot of signs that indicate we could be moving toward medicare for all kind of system. Medicare continues to get stronger and no politician dares to try to change it. Also, it is hard to imagine our healthcare model working if we tried a Universal healthcare system like Canada's, where the government is supplying and employing the providers. We might see our healthcare system shifting to medicare for all starting with reduced age for access to medicare coverage. 
Conclusion
Even though medicare options can be overwhelming, don't get discouraged because for most people the right medicare plan is provides great benefits, allowing for a higher coverage than their private health insurance.
Download our eBook on "Top Reasons Most Financial Plans Fail"
TIMESTAMPS:
0:00 Intro
05:55 Medicare Plans Are Always Changing
07:45 When Should You Start Looking into Medicare for Yourself and Your Spouse?
09:30 Are you Automatically Enrolled in Medicare at Age 65?
10:25 What is the Difference Between Part A and Part B
19:35 Is There One Plan That is Considered the Best?
39:05 Is the United States Moving Toward Universal Healthcare?
LINKS:
Learn more about Casey Smith and guest Logan Steele.
CONNECT:
Twitter, Instagram, Facebook, LinkedIn, and YouTube.
Learn more about A Wiser Retirement™ podcast and access previous episodes.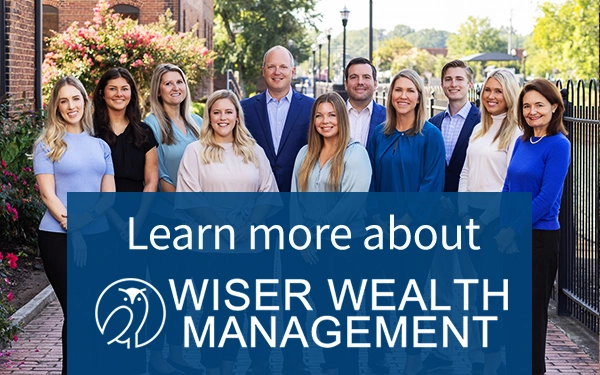 Is a high yield savings account right for you?
Casey Smith
Delta Pilots Guaranteed Variable Universal Life (GVUL) – What Action You Need to Take
Casey Smith
Share This Story, Choose Your Platform!
Wiser Wealth Management, Inc ("Wiser Wealth") is a registered investment advisor with the U.S. Securities and Exchange Commission (SEC). As a registered investment advisor, Wiser Wealth and its employees are subject to various rules, filings, and requirements. You can visit the SEC's website here to obtain further information on our firm or investment advisor's registration.
Wiser Wealth's website provides general information regarding our business along with access to additional investment related information, various financial calculators, and external / third party links. Material presented on this website is believed to be from reliable sources and is meant for informational purposes only. Wiser Wealth does not endorse or accept responsibility for the content of any third-party website and is not affiliated with any third-party website or social media page. Wiser Wealth does not expressly or implicitly adopt or endorse any of the expressions, opinions or content posted by third party websites or on social media pages. While Wiser Wealth uses reasonable efforts to obtain information from sources it believes to be reliable, we make no representation that the information or opinions contained in our publications are accurate, reliable, or complete.
To the extent that you utilize any financial calculators or links in our website, you acknowledge and understand that the information provided to you should not be construed as personal investment advice from Wiser Wealth or any of its investment professionals. Advice provided by Wiser Wealth is given only within the context of our contractual agreement with the client. Wiser Wealth does not offer legal, accounting or tax advice. Consult your own attorney, accountant, and other professionals for these services.
Sign up for our newsletter!
Our latest blogs, podcasts, and educational videos delivered to your inbox weekly.