Financial Planning in Your 30s
On this episode of A Wiser Retirement Podcast, Casey Smith, Brad Lyons, CFP®, and Michaela Dowdy discuss financial planning in your 30s and 30-year-olds biggest issues with money.
SUMMARY:
Financial Planning in Your 30s
When you hit your 30s, it is a big transition from being in your 20s. For most people, this is the time when you start furthering yourself in your career, starting a family, and buying a home. With this in mind, it is also the time to update your budget, savings plan, and money goals.
In your 30s, you are most likely making more money than you were in your 20's. You should take this opportunity to save as much as you can and really start working for the future. You can no longer spend your money frivolously, but rather be cautious of where and how you spend your money. It is also important to take this time in your life to start really looking into insurance. It is no longer trying to find the cheapest option, but the one that will cover you and your assets the best.
Stop Comparing to Others
It can be easy to look around and see what everyone else has and compare it to what you have. This is dangerous because in a lot of scenarios, people who look like they have lots of nice things are actually slaves to payments. Once you start comparing, it could be easy to fall into those same patterns. Instead of comparing yourself to others, compare yourself to who you want to be in 10 years. Look at what you want in 10 years and start working towards that. Set yourself up for the future.
You don't want to be stuck living paycheck to paycheck. A lot of people who have big houses and fancy cars are using every penny they make towards those purchases. Don't get caught up in the illusion that you need shiny objects to be wealthy. What makes people wealthy is actually the freedom to do what they want without being a slave to payments and work.
In your 30s, you're likely no longer contributing just to yourself. Most people will start having families to think about. With this in mind, you can no longer be risky with your money and make rash investments. Be wise with how you spend your money and invest in the future for you and your family.
Building Up Assets
When you get to your 30s, it is a milestone as you have likely been working for 10 or so years. You can really start seeing the fruition of your savings – if you were smart about money in your 20s. If you didn't start saving in your 20s, it's time to get started full steam ahead. There are a lot of young adults today wanting to retire early. In order to do this, you should use your 30s to start figuring out how you will pay your mortgage off early.
There are so many competing needs fighting for your dollars in your 30s. It isn't just fun and saving, but rather family needs, a mortgage, living expenses, transportation, savings, and the lure of shiny objects. It becomes a lot more chaotic, which means you need to be smarter with your money.
Your 30s are a great time to start looking into different life insurance policies. Life insurance is actually a lot cheaper to get while in your 30s than in your 40s, so start looking into it and find one that really fits your situation. On top of life insurance, start looking at your other insurance and make sure all your needs are covered. Looking towards the future and have an estate plan in place is essential in your 30s. You'll at least need a will, power of attorney, and medical detective, especially if you have a family.
30s Biggest Money Issues
One of the biggest mistakes you can make in your 30s, is not adjusting your lifestyle from your 20s. You need to adjust your spending and you budget to match your income and objectives. If you don't make these adjustments, it's likely you're still spending as you were in your 20s, and this will most likely lead you into debt.
Your 30s is also when you really start settling into a career. If you hate your job, this should be when you find what you really want to do long term. Don't get stuck working in a position that doesn't bring you joy. When you don't have debt, it gives you the freedom to explore new careers and find something you're passionate about, even if it's a lower paying position. This all goes back to the discussion of being rich vs wealthy.
Other mistakes you don't want to find yourself in are living paycheck to paycheck, not saving for retirement, and being underinsured. These are all things you need to be aware of and plan for in your 30s. Be smart with your money so that you can prepare for your future.
Download our white paper on "Your Path to a Lifetime of Financial Success"
TIMESTAMPS:
0:00 Intro
1:40 Financial Planning in Your 30s
6:30 Stop Comparing to Others
9:12 Building Up Assets
16:40 30s Biggest Money Issues
LINKS:
Learn more about Casey Smith, Brad Lyons, CFP, and Michaela Dowdy.
CONNECT:
Twitter, Instagram, Facebook, LinkedIn, and YouTube.
Learn more about A Wiser Retirement podcast and access previous episodes.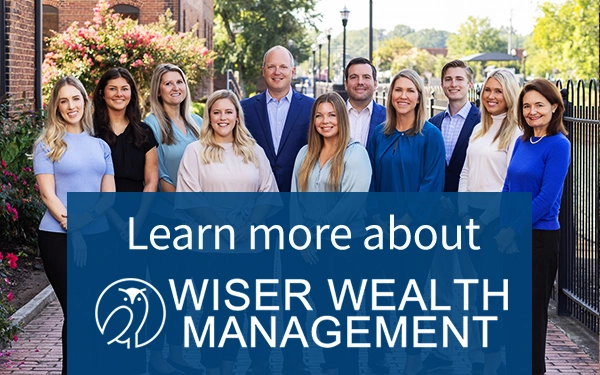 Is a high yield savings account right for you?
Casey Smith
Delta Pilots Guaranteed Variable Universal Life (GVUL) – What Action You Need to Take
Casey Smith
Share This Story, Choose Your Platform!
Wiser Wealth Management, Inc ("Wiser Wealth") is a registered investment advisor with the U.S. Securities and Exchange Commission (SEC). As a registered investment advisor, Wiser Wealth and its employees are subject to various rules, filings, and requirements. You can visit the SEC's website here to obtain further information on our firm or investment advisor's registration.
Wiser Wealth's website provides general information regarding our business along with access to additional investment related information, various financial calculators, and external / third party links. Material presented on this website is believed to be from reliable sources and is meant for informational purposes only. Wiser Wealth does not endorse or accept responsibility for the content of any third-party website and is not affiliated with any third-party website or social media page. Wiser Wealth does not expressly or implicitly adopt or endorse any of the expressions, opinions or content posted by third party websites or on social media pages. While Wiser Wealth uses reasonable efforts to obtain information from sources it believes to be reliable, we make no representation that the information or opinions contained in our publications are accurate, reliable, or complete.
To the extent that you utilize any financial calculators or links in our website, you acknowledge and understand that the information provided to you should not be construed as personal investment advice from Wiser Wealth or any of its investment professionals. Advice provided by Wiser Wealth is given only within the context of our contractual agreement with the client. Wiser Wealth does not offer legal, accounting or tax advice. Consult your own attorney, accountant, and other professionals for these services.
Sign up for our newsletter!
Our latest blogs, podcasts, and educational videos delivered to your inbox weekly.