Financial Planning in Your 60s
On this episode of A Wiser Retirement Podcast, Casey Smith and Brad Lyons, CFP® discuss financial planning in your 60s and ways to prepare for retirement.
SUMMARY:
Financial Planning in Your 60s
When you reach your 60s, retirement is just around the corner. This is when everything starts to feel real. Retirement isn't just a far off dream anymore, it's happening soon and it's time to make sure you're ready. This is the time to get your game plan together and know what your next steps will be. If you don't have a game plan yet, it's okay, there's still time. Start putting together a plan and getting serious about retirement.
Understand Your Expenses
It's really important to start to understand your expenses and how much you spend in a year. Decide how much it costs to live and how much it will be to continue living your same lifestyle in retirement. This is important to know because when you retire and you don't have that steady source of income anymore, a budget will be really important.
Another thing to consider is if you are making any unnecessary payments. Do you have a car loan or a mortgage you still need to pay off? If so, get those things paid off as soon as you can. You will find that once you are totally debt free, it is a lot cheaper to live. Retirement is all about cash flow, and when you have debt, it minimizes cash you could be using to sustain your lifestyle. Ultimately, less payments means more cash flow.
How Long do You Want to Work?
The next thing you should think about is how long you want to keep working. If you decide to work until your 67-70, that is something that you should take into account now. Working a few years longer than full retirement age has many benefits. One of the benefits is that it will take stress off your investment portfolio. The longer you can sustain yourself without relying on your social security or portfolio, the better. Another benefit is that you can continue adding to your 401k longer. This gives you more time to work on getting funds together for retirement.
If you don't enjoy your job, your early 60s would be a good time to consider a career change. If you're planning on working for a few more years, it should be doing something you really enjoy. Another option is, if you have all your debt paid off, you could consider working a part-time job.
Social Security
Just like how you should plan how long you want to keep working, you should also plan when you want to take social security. It's always a good idea to wait to take social security until you are around 70. There are many reasons for this, but the main reason is that between ages 67-70, you get an 8% increase per year in your benefit plus whatever the inflation rate is. The extra money you could save with social security could make a big difference, especially if you run into health issues.
Another thing we hear is people wanting to invest their social security money and file early. That's never a good idea because you don't have enough time for the money to sit in the market. The % increase the government gives you between ages 67-70 is guaranteed, whereas the stock market can never be guaranteed. Your 60s is not the time to roll the dice because ultimately, there just isn't enough time.
Medicare
Another thing you will need to start thinking about in your 60s is Medicare. Medicare itself is a really good healthcare program. You will have to supplement it with a Medigap or advantage plan. Something important to note is you have to apply for Medicare early, meaning you have to sign up at right at or before 65 or else there is a penalty. Planning for healthcare in retirement is really important. You are bound to have health issues, and you need to be prepared for that – especially in your 60s. When it comes down to it, make sure you have a plan and are prepared for any health situation.
Define a Purpose
Something that is really important is to define a purpose for yourself heading into retirement. Take a short break and give yourself time to rest, but don't stop doing things. Once you lose a purpose in life, it can become easier to lose yourself. Try to find a new passion, and this could be anything! It could be traveling, gardening, working out, home improvements, etc. Just find something that gets you excited for the day.
Download our white paper on "Your Path to a Lifetime of Financial Success"
TIMESTAMPS:
0:00 Intro
0:45 Financial Planning in Your 60s
2:58 Understand Your Expenses
6:10 How Long do You Want to Work?
8:00 Social Security
17:32 Medicare
25:50 Define a Purpose
LINKS:
Learn more about Casey Smith and Brad Lyons, CFP®
CONNECT:
Twitter, Instagram, Facebook, LinkedIn, and YouTube.
Learn more about A Wiser Retirement podcast and access previous episodes.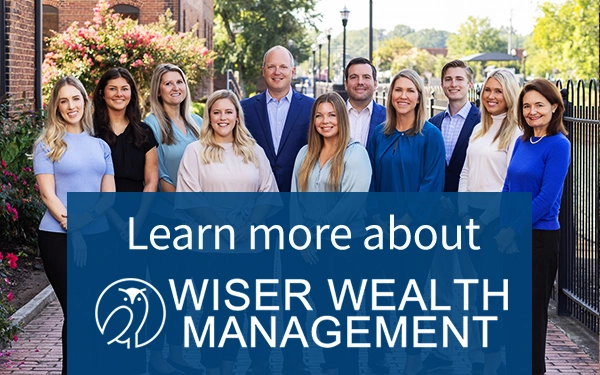 Is a high yield savings account right for you?
Casey Smith
Delta Pilots Guaranteed Variable Universal Life (GVUL) – What Action You Need to Take
Casey Smith
Share This Story, Choose Your Platform!
Wiser Wealth Management, Inc ("Wiser Wealth") is a registered investment advisor with the U.S. Securities and Exchange Commission (SEC). As a registered investment advisor, Wiser Wealth and its employees are subject to various rules, filings, and requirements. You can visit the SEC's website here to obtain further information on our firm or investment advisor's registration.
Wiser Wealth's website provides general information regarding our business along with access to additional investment related information, various financial calculators, and external / third party links. Material presented on this website is believed to be from reliable sources and is meant for informational purposes only. Wiser Wealth does not endorse or accept responsibility for the content of any third-party website and is not affiliated with any third-party website or social media page. Wiser Wealth does not expressly or implicitly adopt or endorse any of the expressions, opinions or content posted by third party websites or on social media pages. While Wiser Wealth uses reasonable efforts to obtain information from sources it believes to be reliable, we make no representation that the information or opinions contained in our publications are accurate, reliable, or complete.
To the extent that you utilize any financial calculators or links in our website, you acknowledge and understand that the information provided to you should not be construed as personal investment advice from Wiser Wealth or any of its investment professionals. Advice provided by Wiser Wealth is given only within the context of our contractual agreement with the client. Wiser Wealth does not offer legal, accounting or tax advice. Consult your own attorney, accountant, and other professionals for these services.
Sign up for our newsletter!
Our latest blogs, podcasts, and educational videos delivered to your inbox weekly.